Entre mas aprendo de los creadores de arte que conozco, empiezo a ver un patron que sale a relucir.
Desde siempre me encantó la guitarra (aunque hipotéticamente hablando no pueda salvar mi vida en caso de que alguien me ponga una pistola en la cabeza y me pida tocar una canción correctamente), mi padre me inculcó el gusto por la música desde muy niño . En la adolescencia cuando escuchaba canciones que realmente me hicieran mover, salirme de mi mismo, lo primero que intentaba hacer era una 'guitarrita de aire' – así pasó por un buen tiempo hasta que me dije, ¿Cómo es que estos tipos logran algo así? – ¿Cómo se sentirá tomar una guitarra y hacer por lo menos esos movimientos con la mano y generar esos sonidos? fue así como empecé a tocar guitarra a los inicios de mis 20's.
Al inicio me encantaba escuchar a guitarristas orgánicos, entre mas crudo y limpios sonaran, mejor. George Harrison, Johnny Ramone, Robby Krieger, Santana, John Frusciante, Graham Coxon y Nels Cline, entre otros.
Después sin darme cuenta, empecé a tomar un gusto por los guitarristas que intentan mover el instrumento a algo mas torcido, usando pedales tratando de generar ambientes que complementaran la canción, ayudando a generar sentimientos que permitieran transmitir el mensaje. The Edge, Ed O'brian y Jonny Greenwood (mas allá del trabajo que hace con Radiohead, su trabajo haciendo bandas sonoras para películas como 'there will be blood', `you were never really here' y 'phantom thread' son cosas muy bonitas) me vienen a la mente.
Cantautores, músicos, poetas como Bob Dylan y Leonard Cohen.
En mi adolescencia fue cuando empecé a leer libros constantemente.
Diferentes tipos de género y autores, Irvine Welsh, Stephen King, HP Lovecraft, Jack Kerouac, Charles Bukowski…
En algún momento me hice las preguntas ¿De dónde viene todo esto? … ¿Cómo han logrado sacar de forma coherente y con hilaridad todas estas obras? ¿Son diferentes?
Stephen King en su libro 'On Writing' da su punto de vista sobre este tipo de preguntas en su área de conocimiento. En su opinión, las obras literarias están ahí, navegando frente a tí en el aire; tu tarea no es encontrar estas ideas sino reconocerlas cuando se te presentan.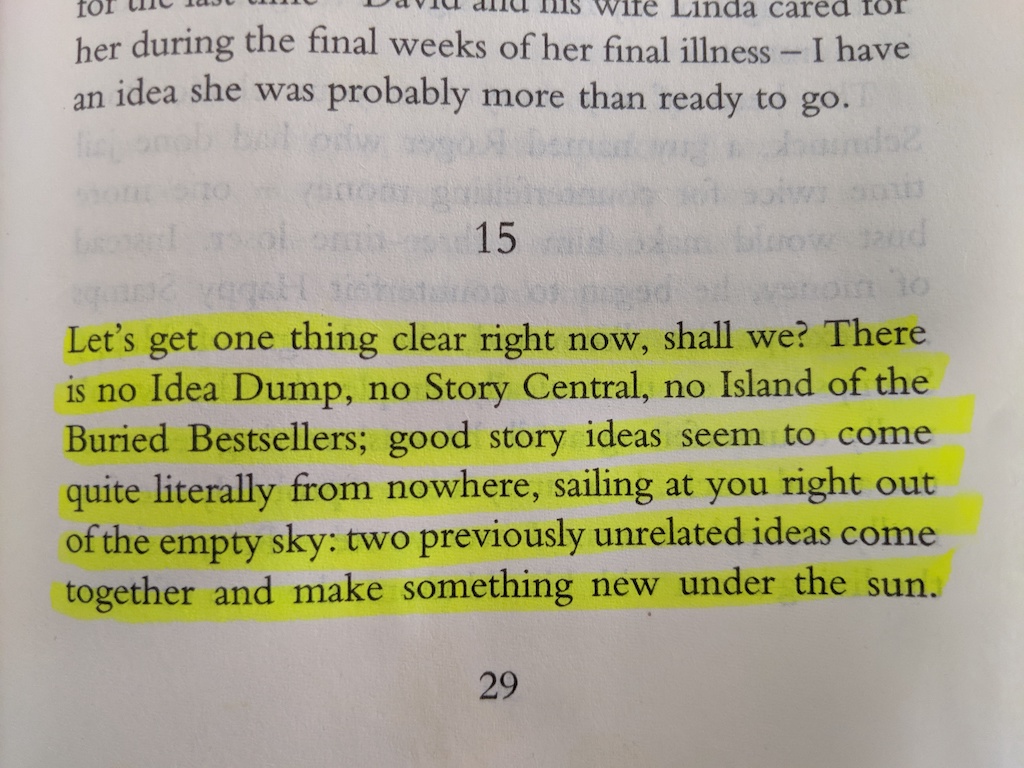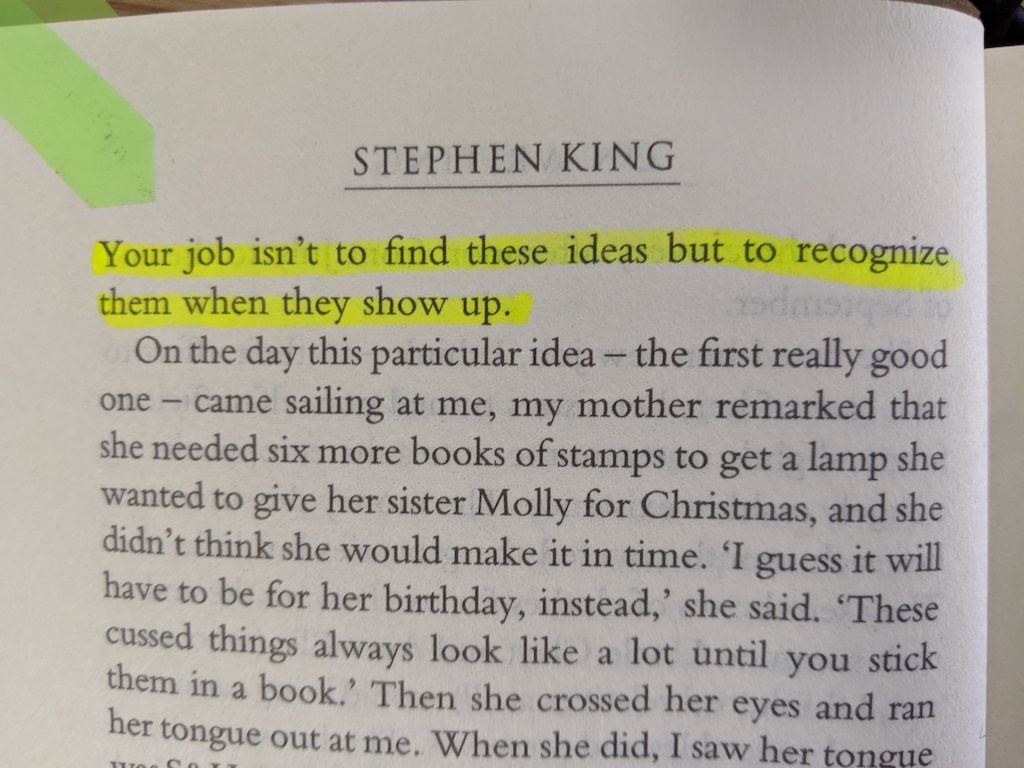 El truco es, según su opinión, hacerte competente en la forma de arte que mas te atraiga, en su caso la escritura. Entre más competente seas, mejor serás al momento de traducir este tipo de "conciencia" en una forma que puede ser transmitida a otras personas de forma digerible.
No esperar a que llegue la inspiración para empezar a trabajar, sino, crear una disciplina de tal forma que cuando llegue la inspiración te encuentre trabajando.
La idea de que las ideas están en el aire, listas para ser tomadas y plasmadas me pareció al principio difícil de digerir, hasta cierto punto la idea me parece una especie de humildad desmedida.
Sea cierto o no, me parece que es una forma sana de mantener la mesura y seguir creando obras de forma sostenida.
Otro artista que me encanta, Leonard Cohen lo dice aquí de forma similar.
min 0:49
I think that any songwriter and I think that Bob Dylan knows this more than all of us, 'you don't write the songs anyhow', so, if you are lucky, you can keep the vehicle healthy and responsive over the years, if you are lucky – your own intentions have little to do with this, you can keep the body as well-oiled and receptive as possible but whether you're actually going to be able to go for the long haul is really not your own choice.

min 3:07

I often said if I knew where the good songs came from I'd go there more often, you know everybody has a kind of magical system, you're a writer yourself, everyone has a kind of magical system that they employ in the hopes that this will open up the channels, my mind was always very cluttered so I took great pains to simplify my environment because if my environment were half as cluttered as my mind I wouldn't be able to make it from room to room, so I can't really give you a coherent answer.
Ed O'Brian, guitarrista de Radiohead lo dice aquí.

min 59:35
If you don't stay humble and the ego becomes (takes over), the music will desert you… that's the other side, you gotta remember how lucky you are. I think this music thing is like, at its best, it's kind of, it's not you that does it. It comes through you. It's like another thing altogether.
Lo que entiendo de ellos es que, entre mas perfeccionemos un oficio mas preparados estaremos para poner varias ideas en un mismo plano y cuando se pueda, surfear la tan efimera "ola de la inspiración" y sacar lo mejor de ella.
Algunos tal vez necesitarán menos trabajo para perfeccionar el oficio que otros, pero ante todo, se debe intentar dar lo mejor para no quedarnos cortos; pensar que se es un genio, que cierta droga es necesaria y que no se necesita trabajar "mucho" para lograr las metas hace mas daño que beneficio.